Doomed since birth. Same applies to you. Unless you are reading this from another rock..
Thursday, November 23, 2006
Tuesday, November 14, 2006
Every known hobby known to Man has a magazine.
From PC hobbyists to guns to even rocket science.
I am a avid buyer of some magazines especially on subjects like Linux, console gaming and sometimes digital photography..
Browsing in one of a major bookstore recently, I came upon this front cover of a magazine which was "begging" me to take a photo of it...
Thanks to all Aviary Enthusiasts, a magazine of similar nature has hit all major bookstores..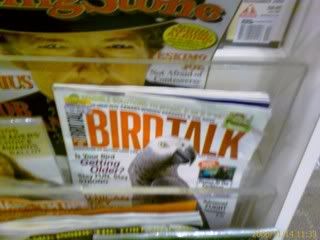 Posted by

FB
at 12:23 PM


Friday, November 10, 2006
Posted by

FB
at 3:34 PM


Most people just take what they read or what they were taught without giving it much thought.

For the everyday road user, the blue colour "U-turn" sign means they can do a 180 degree turn to drive towards the opposite side of which they are facing.

However, the term "U-turn" is technically incorrect.
Look at the shape of the U relative to the direction which the driver desires to go..

Totally wrong..
Technically and diagrammatically, it should be known as the "n-turn"..
Posted by

FB
at 2:34 PM